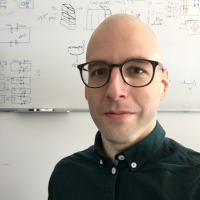 Contact:

---
About
I am a Postdoctoral Research Associate at Oak Ridge National Laboratory (ORNL). My research focus is High Performance Computing and Artificial Inteligence to improve performance, energy and power efficiency of large scale HPC systems, as part of the Analytics & AI Methods at Scale Group of Feiyi Wang.
Before joining ORNL, I was academic research staff at Technische Universität München (TUM). I acquired my doctoral degree in computer science from Ludwig-Maximilians-Universität München (LMU) . My doctoral studies included exchanges as visiting researcher to Lawrence Livermore National Laboratory (LLNL) as well as a three-year funded research position at Intel.
---
Research Topics
High Performance Computing
Energy and Power Efficiency
Analytics and Artificial Intelligence for Computer System Operation
System Software for HPC
Scalable Performance Tools
Exascale Computing
Performance Engineering in HPC
Scalability and portable performance
Parallel Programming Models
Tightly coupled Distributed Systems
Research Groups and Project Work
I actively participate (or have particiapted*) in the following research groups:
For projects and research collaborations feel free to reach out.